How to Stay Motivated When Working From Home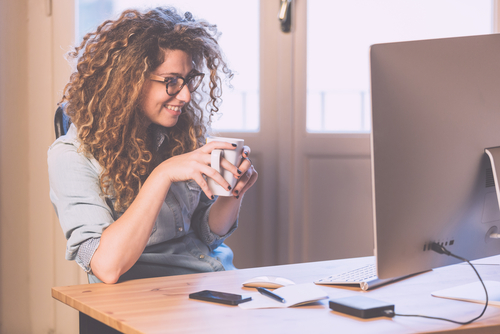 It is a difficult time for both businesses and individuals as we learn to adapt to the current situation. As many people are now working from home permanently for the first time, it can take a bit of adjusting before getting into a rhythm with it and finding your routine!
At Attic Recruitment we are all now working remotely and keeping in touch with you all through the wonderful world of technology. If you're in the same boat and are struggling to find the motivation to keep going, here are some top tips to help.
Get ready as normal
While it might be tempting to forego a shower and work in your pyjamas, it certainly won't get you in the right frame of mind to be productive! Try to treat each weekday as if it is a normal day at the office; get up early and have a good breakfast, and dress in something comfortable but still appropriate for a work environment.
While you don't necessarily need to put a shirt and tie on or a blouse and skirt, consider how your outfit could impact your productivity and motivation.
Dedicate a specific area for work
Your home is usually a place to relax and enjoy spending time with your family. Now that you're having to work from home, it can blur the lines between work and leisure. It may be helpful to have a specific area in the house that you use during working hours, such as a desk in a spare bedroom or sitting at the dining room table.
This can help you to separate work from your home life, and make you feel a little more motivated when you sit down at your makeshift desk!
Have a good desk set-up
It doesn't matter if you don't have room for a home office; the most important thing is your desk and seating area. It's important that your desk, computer screen and chair are all set up in a comfortable configuration, in a way that won't cause too many neck aches or posture problems.
Try to also make sure you are near a window or have access to some natural light, as this can have a big impact on your mood and how awake you feel.
Take a break
It can be easy to power through the day without really stopping, because you're already in the comfort of your own home. However, not taking proper breaks can have a negative impact on your motivation, leading you to burn out quicker!
Make sure you have regular breaks from your computer; get some fresh air in the garden or make a cup of tea. Taking even just 10 minutes away from your computer can help you to remain focused when you come back.
Learn to switch off
It's important to treat your working day as if you were in the office; work your set hours and then switch off! Use your evenings for downtime and to relax, just as you would if you were coming home from the office.
If you end up working into your evenings, you may find yourself losing motivation as the week goes on. Make sure you clock off at an appropriate time and spend some quality time with your family or calling friends to give yourself a much-needed distraction at the end of the day.
---